Trade Mission Poland (Gdansk + Szczecin)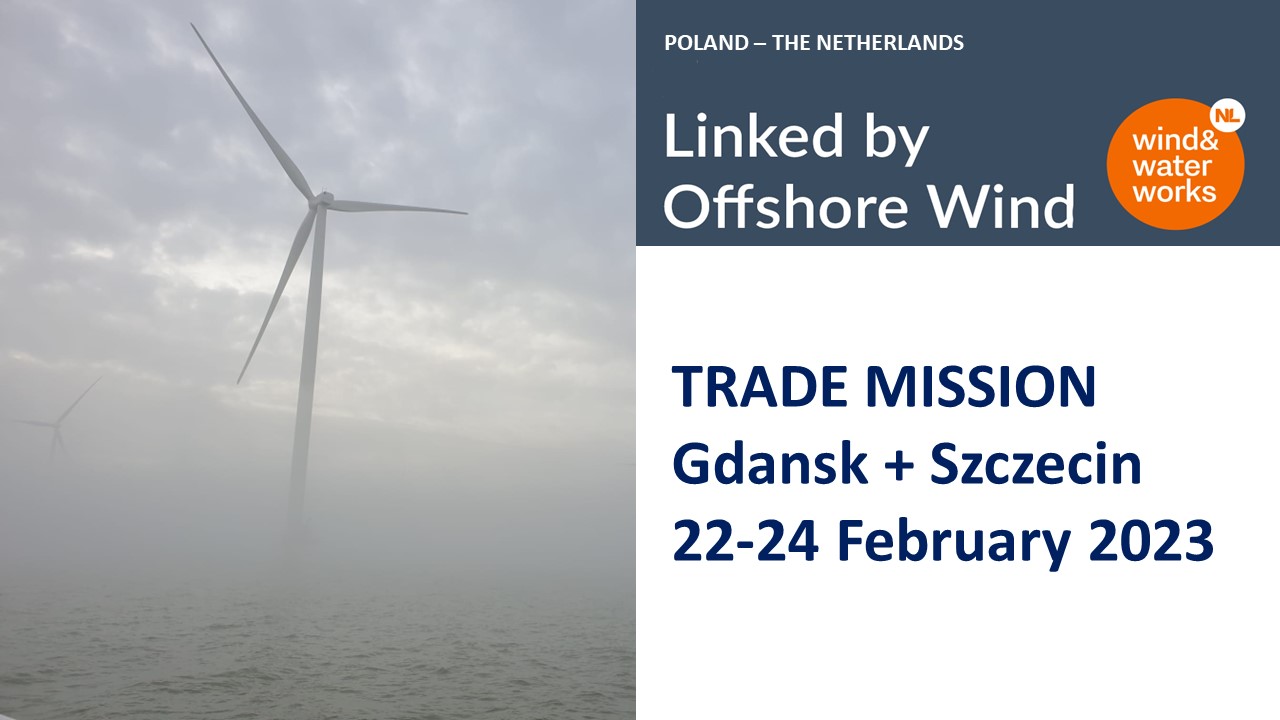 With the first round of 5 GW offshore wind projects in development & procurement phase now and the second round leases up to 11 GW being assigned to developers, Offshore Wind is one of the fastest-developing renewable energy sources in Poland that will substantially accelerate in the coming years. On top of that, the government currently plans to increase the 2030 target capacity from 5 to 12 GW. The Netherlands is cooperating closely with Polish partners, government and other organisations through knowledge and expertise exchange. One of the frameworks to enhance bilateral cooperation and partnerships is the Partners in International Business (PIB) programme "LinkedbyOffshore Wind" that was initiated in August 2022 by 12 Dutch private parties* together with the Dutch government.
As part of the PIB programme, we are now inviting companies to participate in the upcoming trade mission to Gdansk/Gdynia and Szczecin from 22 to 24 February 2023. This trade mission focuses on reinforcing the local network with relevant offshore players in these coastal regions. In close cooperation with Pomeranian Offshore Platform, we have set up a Polish Dutch Offshore Wind breakfast conference and a series of company visits, information and networking sessions that will help you to identify business needs and opportunities for partnerships and future cooperation.
Preliminary agenda
Wednesday 22 February:
Travel Amsterdam to Gdansk, (proposed flights: KL1921 (arrival 17.35) or KL1923 (arrival 23.35))
Thursday 23 February, Gdansk/ Gdynia:
Morning: Polish Dutch Offshore Business breakfast and networking event with Pomeranian Offshore Platform: introduction to Offshore Wind community & developments in the Pomeranian region

Afternoon: 3 company visits (Port, Shipyard, Developer, t.b.c.)

Evening: Bus travel to Szczecin
Friday 24 February, Szczecin:
Morning : visit to PWEA and introduction to offshore wind community & developments in the West Pomeranian region

Afternoon : 2 company visits (Port, Turbine OEM, t.b.c.)

Evening: return to Amsterdam (via Berlin, flight KL 1834, arrival 22:00)
Pricing
This activity is open to all Dutch companies active in the Offshore Wind sector. The participation fee includes local transport, onsite assistance, and dinners, participation in company visits and in the Dutch Polish Offshore Wind breakfast. Flight, accommodation and out-of-pocket expenses are at your own cost.
PIB members EUR 0 (*)

NWEA/IRO/NMT members EUR 650

Other participants EUR 750
(*) free participation for 1 person per PIB company, each 2nd person at the regular rate
Registration
If you are interested to participate in this mission, please contact Elro van den Burg (PIB coordinator) or Danielle Veldman (NWEA) or apply directly via this form.
The deadline for registration is February 3rd.
*Current PIB cluster members include: Boskalis, C-Ventus Offshore Windfarm Services BV, DHSS EAGLE-ACCESS B.V., @IQIP, N-Sea, Pondera, RelyOn Nutec, SeaZip Offshore Service, TOS - Energy & Maritime Crew, Ventolines, with support from MARIN (Maritime Research Institute Netherlands) and the Netherlands Wind Energy Association (NWEA).
February 22 - February 24, 2023
Trade Mission Poland (Gdansk + Szczecin)