December 10, 2021
Successful Netherlands Lounge at Energy Taiwan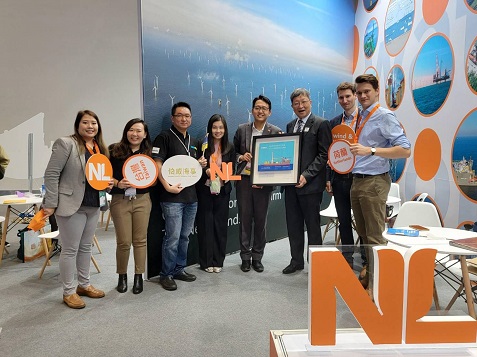 From December 8-10, 2021, the Energy Taiwan Conference & Exhibition took place in Taipei, Taiwan. The focus of Energy Taiwan is all kinds of sustainable energy, including offshore wind energy.
The participation with the Netherlands Lounge is provided by the Partners for International Business Program (PIB) Offshore Wind Taiwan. Together with the Netherlands Office Taipei, Holland Home of Wind Energy's (HHWE) local liaison officer Jennifer Chien organized the booth, in which 18 Dutch companies participated:
TWD;

BrandSafway;

Boskalis;

DEME Offshore;

SMST;

Sif Group;

Trelleborg Ridderkerk;

C-Ventus;

OAK Offshore; and

Marlow Offshore.
Due to the COVID-19 pandemic, unfortunately it wasn't possible to easily travel to Taiwan for this expo. However, since most of the participants do have local partners or local offices, we were able to set up a well-represented Netherlands Lounge.
Taiwan has big plans for the development of offshore wind (including floating wind) in the coming years. The first offshore wind farms are now being built and more than 50 Dutch companies are already involved in all phases of development and construction in Taiwan.
The next upcoming exhibition in Taiwan will be the Wind Energy Asia, taking place from March 9-11, 2022 in Kaohsiung, Taiwan. Stay tuned!
For more information about offshore wind in Taiwan and our activities, please contact Kees Mokveld (RVO) or Eline Timmer (HHWE).