September 22, 2022
Successful trade mission for offshore wind, green hydrogen and port development to Ireland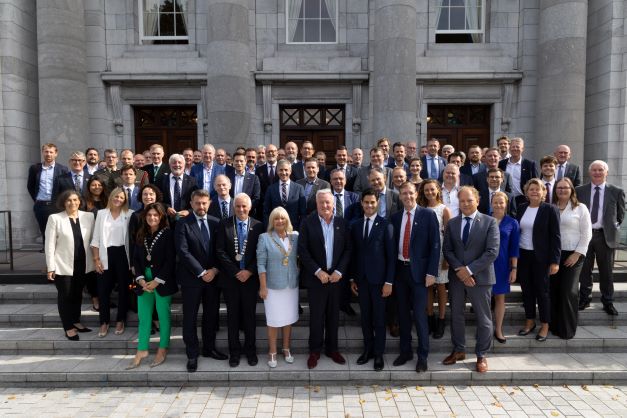 From 11 to 14 September, a delegation of 23 Dutch companies and knowledge institutions paid a successful visit to Ireland. The focus of this mission was on the fields of offshore wind (bottom-fixed and floating), green hydrogen and port development.
During an intensive program the participating companies were extensively informed about the Irish plans for offshore wind, green hydrogen and ports. An important highlight on the first day was the visit to MaREI in Cork. MaREI is the Irish research center for maritime energy generation and climate research.
On the second day there was a seminar under the watchful eye of Minister Rob Jetten. During this meeting, an MoU was also signed between the Port of Amsterdam, the Port of Cork and EIH2 for further cooperation in the field of green hydrogen. In the afternoon of the second day, a matchmaking was organized in which 120 meetings were planned. Some are already successful.
Day three was dominated by 5 working visits to Irish parties in the Cork area.
Ireland aims to have 7 GW of offshore wind operational by 2030. These are bottom-fixed projects in the first phase, but floating wind projects will also be developed in Ireland in the near future. The Irish ambition for floating wind: 30 GW by 2050, but the potential is much greater, especially on the Irish west coast.
The mission was organized by the Dutch Embassy in Dublin, HHWE and RVO/ICEP.
For more information about offshore wind in Ireland and the opportunities for Dutch companies, please contact kees.mokveld@rvo.nl