The Hollandse Kust (west) Wind Farm Zone (HKWWFZ) is located approximately 51 km off the west coast of the Netherlands. It will accommodate around 1,400 MW, split between Site VI and Site VII. The total surface area of the two sites within HKWWFZ (including maintenance and safety zones) is approx. 176 km2. The tenders for the two sites each featured a qualitative criteria component. For Site VI, this was related to ecological initiatives, whilst for Site VII the focus was on system integration.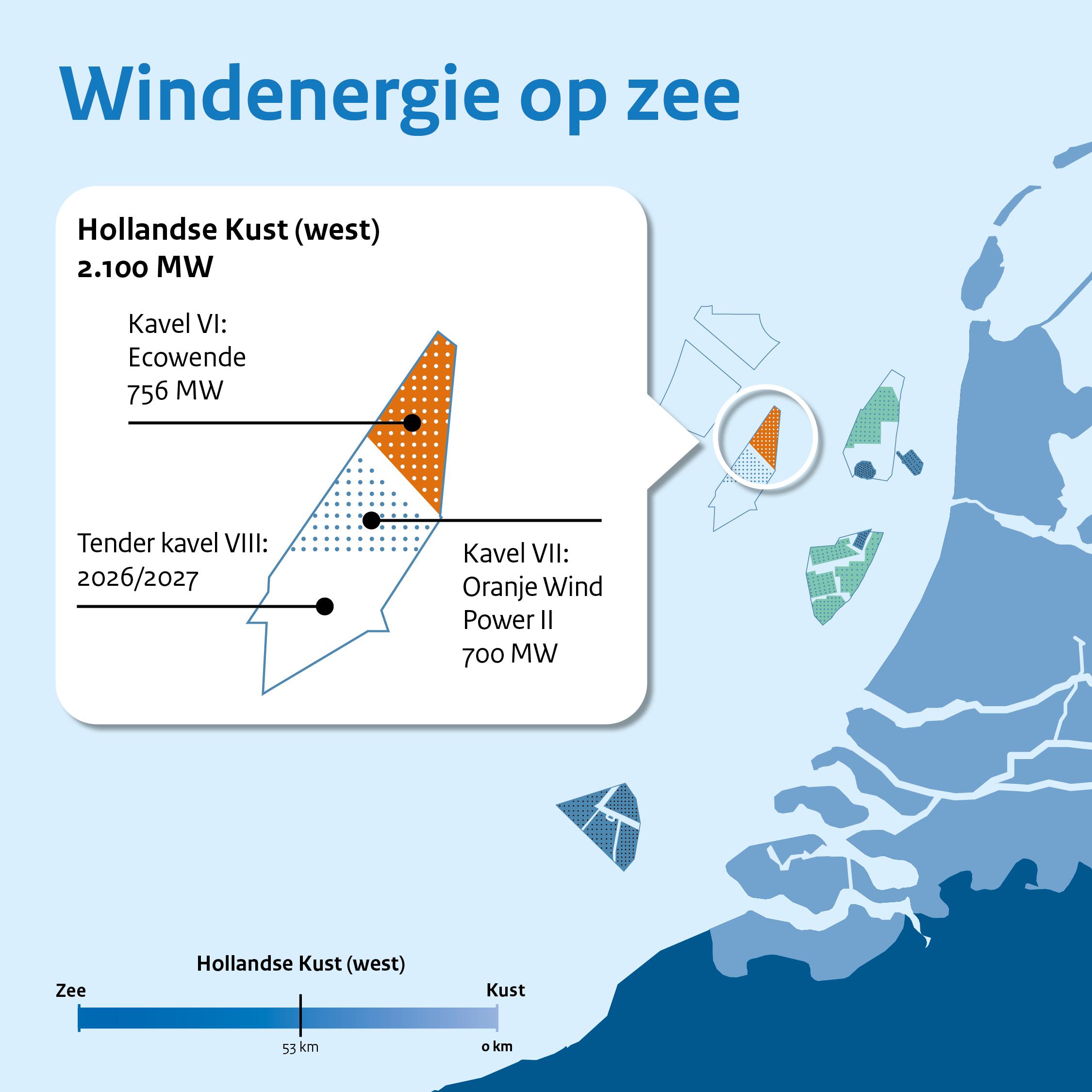 Ecowende, a joint venture between Shell and Eneco, won the permit for HKW Site VI, the Government announced on 15 December 2022. Ecowende will build the wind farm with an eye for nature in line with the ecological requirements of the subsidy-free tender and includes 40 innovative experiments and applications that were included in its winning proposal. The wind farm is expected to be commissioned in 2026.
The 756 MW wind farm will consists of 54 wind turbines. These will produce enough electricity per year to meet approximately 3% of the Dutch electricity demand – approximately the consumption of one million households. From 2027, more than 200 GWh of the electricity produced by the wind farm will be supplied to KPN, a Dutch telecommunications company, under a 15-year 'nominated' power purchase agreement with Eneco. The wind farm will be realised without subsidy.
For the first time in the Dutch offshore wind tenders, the bidding parties had to make a financial offer. Together with the costs for the environmental impact assessment and site studies paid by Ecowende, this yields € 63.5 million for the Government. This amount will be used to ensure that new wind farms fit in well with the environment and are sensitive to other activities in the North Sea.
The guiding principle in design and construction of the wind farm under the tender specification is to have as little impact as possible on birds, bats and underwater marine life. Ecowende therefore plans to:
create a corridor for birds by placing the wind turbines extra far apart;

use innovative piling/foundation techniques that minimise impact on marine mammals and marine life;

place natural reef structures on the seabed to boost biodiversity; and

together with a group of scientists and experts, implemente and evaluate dozens of innovative solutions to fill knowledge gaps regarding the ecological impact of offshore wind.
Ecowende says it aims to set a new ecological benchmark for the development and construction of wind farms in the North Sea and enable offshore wind farms to have a net positive impact on nature (both above and below the water) in the future.
At a glance
Owner: Ecowende (Shell and Eneco)

Total capacity: 756MW (expected to produce enough electricity to meet 3% of Dutch electricity demand each year, enough for around 1 million households)

Qualitative criteria for tender: Ecological focus for comparative assessment of bids

Wind turbines: 54 x 14MW turbines (supplier tbd - Siemens Gamesa?)

Location: Approx. 51-53 km off the coast of Ijmuiden

Size of site: 176km2

Water depth:

Foundation type:

Other Innovations: Ecowende's application included 40 innovations relating to ecological benefit and minimising impact on nature

Construction start:

Fully Operational: 2026

Main suppliers: Sif (monopile foundations)

Installation: