The Hollandse Kust (west) Wind Farm Zone (HKWWFZ) is located approximately 51 km off the west coast of the Netherlands. It will accommodate around 1,400 MW, split between Site VI and Site VII. The total surface area of the two sites within HKWWFZ (including maintenance and safety zones) is approx. 176 km2. The tenders for the two sites each featured a qualitative criteria component. For Site VI, this was related to ecological initiatives, whilst for Site VII the focus was on system integration.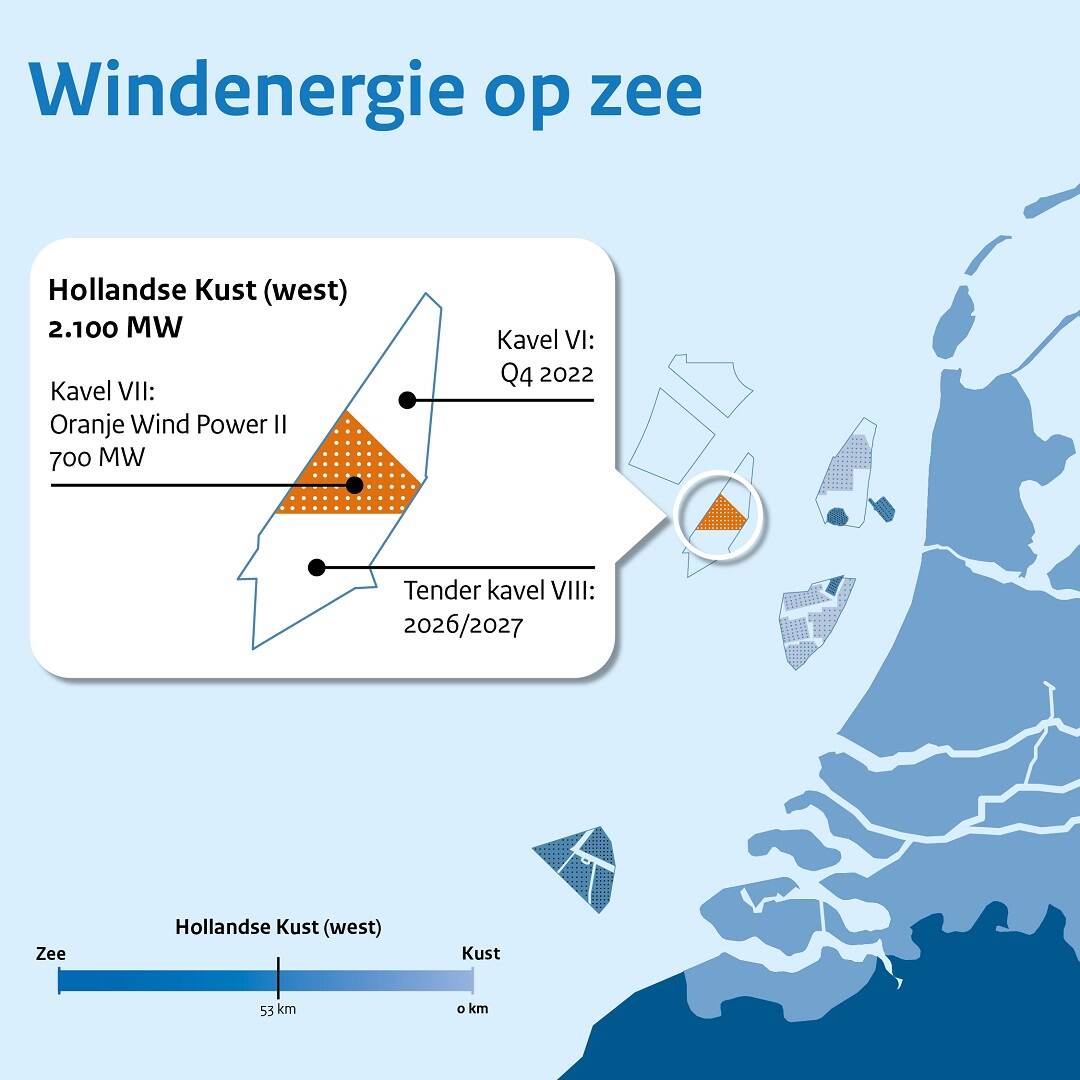 RWE subsidiary Oranje Wind Power II was awarded the permit for HKW Site VII on 10 November 2022. RWE's design for the 760MW project delivers solutions for the optimal integration of offshore wind farms into the Dutch energy system. The company says its ultimate goal is to perfectly match demand for energy to the flexible generation profile of offshore wind farms, contributing to grid stability.
To unlock full system integration, its concept for HKW Site VII combines offshore wind with 600 MW of onshore electrolyser capacity for green hydrogen production, and other flexible demand solutions like 225 MW of e-boilers for district heating and industrial applications, battery storage and charging solutions for electric vehicles. In addition RWE plans to combine the HKW VII offshore wind farm with floating solar panels to allow a more efficient use of ocean space.
Large parts of the investments are planned in the Groningen and Brabant areas in close collaboration with partners in those regions. In addition, RWE also plans to accelerate the commercial application of new technologies by supporting a vast amount of innovators and startups in demonstrating their innovation in an operational environment.
RWE will also cooperate with universities, educational centres of applied science, and vocational schools with regard to knowledge sharing and dissemination.
The wind farm is being developed without subsidy and is expected to be fully operation in 2026.
At a glance
Owner: Oranje Wind Power II (RWE)

Total capacity: 760MW (expected to produce enough electricity to meet 3% of Dutch electricity demand each year, enough for around 1 million households)

Qualitative criteria for tender: System integration focus for comparative assessment of bids

Wind turbines:

Location: Approx. 51-53 km off the coast of Ijmuiden

Size of site: 176km2

Water depth:

Foundation type:

Other Innovations: System integration solutions including producing surplus electricity to power green hydrogen production onshore, use of floating solar PV with integrated storage (supplied by SolarDuck) to allow more efficient use of ocean space, and flexible demand solutions (e.g. e-boilers and battery storage)

Construction start:

Fully Operational: 2026

Main suppliers:

Installation: